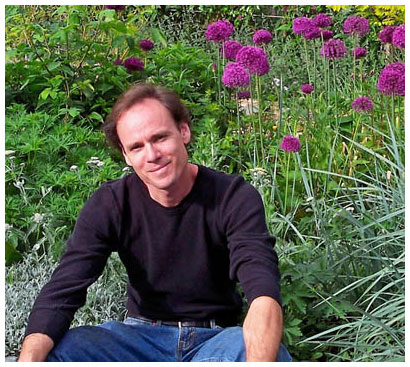 Jon Nielsen is the founder and main creative force behind Healthy Gardens. We are a design/build landscape company serving the greater Seattle area, Edmonds and north to Camano Island.
Jon's life and career has centered around plants and making gardens for most of his life. A life-long Seattleite, although now in Edmonds, he planted his first garden at 7 years old (Tomatoes and vegetables), at 12 he solicited his first weeding and lawn mowing jobs in the neighborhood, At 16 he landed a job tending mixed annual display pots and annual production at the former Saxe Floral in Ravenna. After two years there he went to work for an excellent, local landscape contractor and never looked back. By 20 years old he was sneaking into Rich Haag's lectures at the UW School of Landscape Architecture, and discovering the rich horticultural community in Seattle through local groups such as the Arboretum Foundation, Seattle Tilth, The Northwest Perennial Alliance and The Northwest Horticultural Society.
In 1989 he founded his own company, The Healthy Gardener, focusing on organic based gardening services. While tending his client's gardens and landscapes, Jon was also planning and planting several of his own gardens, around his home, his childhood home, and in public spaces. Visits and studies in England provided more horticultural background as well as new plants and seeds to try here in the States.
This ongoing personal research through an ever expanding range of local garden conditions has led to the search for an expanding range of plant material. Many plants were trialed, some worked beautifully, and others performed poorly or were superseded by better varieties. Jon has propagated the best of these plants, and offered them for sale through The Healthy Gardener's plant sales and garden opens. Almost overnight a successful micro-nursery was born and plants were offered to the public, local garden centers and to other garden designers.
As time went on Jon was being contracted to do more and more gardens and plantings, so the nursery was closed in 1998 to focus on the design/build part of the business. Jon was also developing a reputation for beautiful, well built stonework within the gardens. Coming from a family legacy of wooden boat builders, fine furniture makers and artists, it is no surprise that he naturally took to creating beautiful masonry projects built to be here 100 years in the future. Garden carpentry is another craft that Jon has excelled in, and he has provided many beautiful well built fences, trellises and pergolas.
In 1994 the Healthy Gardener became Healthy Gardens to emphasize the gardens. Jon prefers to be hands on and purposely runs a fairly small crew of talented craftsmen and gardeners. They bring much to what Healthy Gardens offers, and with Jon, can be completely counted on to provide the labor and the skills to see any project through in a professional, timely and cost effective manner.
Healthy Gardens Landscape and Design is a registered Landscape Contractor (#healtg*991NG) and is fully licensed, bonded and insured.